8 July 2020: Border closures
Way clear to immediately open VIC-NSW border
The NSW Premier stated the reason for closing the border with Victoria was the risk of community transmission from the COVID-19 outbreak in Melbourne. With the greater Melbourne area going into stage 3 lockdown, that threat has been removed.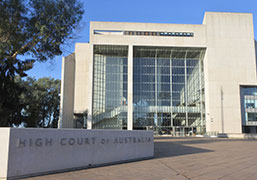 Listen to our recent Significant Workplace Relations Issues podcast for more on the Mondelēz case
7 July 2020: Mondelez v AMCU
High Court hears Personal/Carer's Leave case
Ai Group Workplace Lawyers appeared in the High Court this week in the appeal by Mondelēz International and the Minister for Industrial Relations against a Federal Court decision that, if allowed to stand, would impose more than $2 billion a year of additional costs on employers.
7 July 2020: Economic Indicators
Australian PBI: Business conditions still negative in June
The latest data from Ai Group's aggregated Australian Performance of Business Index (Australian PBI) suggests that the negative impact of COVID-19 activity restrictions on Australia's manufacturing, services and construction industries will continue well into the second half of this calendar year.
16 July 2020: Upcoming Online Event
Your access to world-class manufacturing research capacity
Ai Group is organising virtual tours of Australia's leading engineering universities so you can see the capacity and support available to help local industry innovate. First stop: University of Technology, Sydney! Don't miss this rare opportunity:
9 July 2020: Access to Graduate Researchers
Putting Graduate Researchers to work on your business
Recent examples of PhD and Masters by Research students solving companies' business problems reinforce the benefits they can bring to any business. Read our Blog to see some of the results, and find out how your company can benefit.
9 July 2020: Workplace Skills
Government incentives to build workplace skills during COVID-19
Ai Group has updated its list of government grants, initiatives, and programs that could benefit your business, and put it in a stronger position as it emerges from the economic downturn.
3 July 2020: Increasing IT traineeships
Help update the national skills standards across food & beverage processing
Input is being sought from companies that operate in the food & beverage processing sector, including pet food manufacturers, regarding proposed changes to qualifications, skill sets and competency standards.
2 July 2020: National Online Energy Efficiency Summit
"Energy Efficiency is a machine for creating jobs – time to start it up"
Ai Group joined the Energy Efficiency Council and a range of key industry partners last week for a national online discussion examining the growing consensus that energy efficiency has a crucial role to play in the post-COVID-19 economic recovery. Read all about it, or watch the whole thing on YouTube, here: