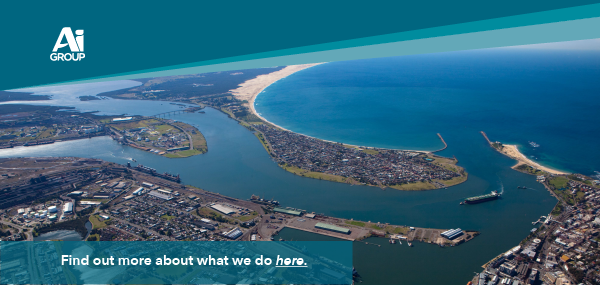 Ai GROUP GREATER HUNTER UPDATE
March 2019
Welcome to Ai Group's monthly news update for the Hunter, Central Coast and Northern NSW Region
This newsletter is filled with time-sensitive updates on what is happening in your region and workplace relations issues generally.
---
EDITORIAL:
Welcome to 2019

We are already two months into the First Quarter of 2019, and general indications are that the economy of the Hunter and its surrounding regions is doing well.

Tracking on Innovation: Melvelle Equipment Corp Pty Ltd

A local manufacturer of rail equipment is generating global interest in an innovative vehicle for track inspections and for retrieving injured persons from tunnels or viaducts.
Energy Efficiency: Accessing Manufacturing Funding

$16 million in matched NSW Government funding for energy saving projects is available on application before 30th June 2019.

Finalists announced for 2019 Hunter Safety Awards

The finalists have been announced across 12 categories for the Hunter Safety Awards, with the winners to be revealed at the event on 15 March.
AusIndustry Innovation Connections Program

This programme assists companies (with a turnover less than $100m per annum) to engage with research organisations to undertake R&D activities to help the business grow.

Free workshop: Effective trainee & apprentice supervision

As an employer of an Apprentice or Trainee, you are invited to attend one of four upcoming free Supervisor Workshops being held in Taree, Newcastle, Maitland & Central Coast.
Regional Network Meetings

Our regional network meetings cover a wide range of interests and are very popular with key managers in our member companies. This year we are partnering with Forsythes Recruitment to deliver Supply Chain and Logistics Forums on the Central Coast and in Newcastle. Attendance is free. To see the full list and dates go to our Regional webpage: www.aigroup.com.au/contact/hunter
Certificates of Origin

Ai Group has the authority to issue Certificates of Origin for all of Australia's Free Trade Agreements (FTAs), and our experienced Export Documentation Coordinators can help you understand how to comply with the rules for your product.

We can also help with documents for countries without Free Trade Agreements and other documents such as Letters of Free Sale.

Download a Certificate of Origin Registration Form
Online Events

Ai Group regularly presents free and live interactive online events, most recently including:

Your Safety Management System: Setting the Standard
13 February 2019 - Watch now

Members also have access to recordings of other previous events via our Online Events Library.
Your Membership with Ai Group

Are you getting the most out of your membership? Give one of our Member Relationship Executives a call for an update on Ai Group's services:

Adrian Price - (02) 4925 8300 or adrian.price@aigroup.com.au
Judy Martin - (02) 4925 8303 or judy.martin@aigroup.com.au
Workplace Relations Advice and Assistance

Members of Ai Group seeking advice or assistance regarding workplace relations issues can contact

Leanne Cruden, Principal Adviser - Workplace Relations on
(02) 4925 8300 or leanne.cruden@aigroup.com.au