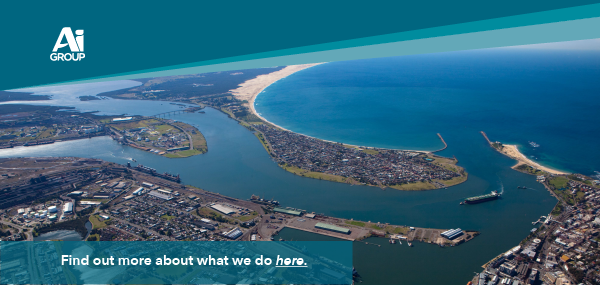 Ai GROUP GREATER HUNTER UPDATE
September 2019
Welcome to Ai Group's news update for the Hunter, Central Coast and Northern NSW Region
This newsletter is filled with time-sensitive updates on what is happening in your region and workplace relations issues generally
---
Small Business Funding Guide launched

The Small Business Ombudsman has launched an industry-first publication to help small businesses in understanding the range of finance providers in the market and to take the steps necessary to become 'finance fit' to prove their creditworthiness to lenders.

Construction Supply Council established

Ai Group has announced the establishment of a Construction Supply Chain Council to assist governments and industry to more efficiently and effectively develop and deliver infrastructure projects for the benefit of the community.
Introducing the Manufacturing Modernisation Fund

A new $50 million program will support manufacturers in modernising, adopting new technologies, becoming more productive and in creating more jobs by co-funding capital investments and associated reskilling. And we can help with your application.

Power infrastructure upgrade help available

Does your business need an electrical infrastructure upgrade to maximise growth? Applications are open for the pilot NSW Regional Business Power Infrastructure Upgrade Program to help your business overcome electrical infrastructure impediments.
Are you looking for business talent?

If you're looking to develop talent in your business in marketing, finance or accounting law, the University of Newcastle can offer you the services of work experience students or students on paid vacation work.

Water restrictions now apply in the Hunter

As a region, we are experiencing the lowest water levels in our dams in over two decades. Level 1 water restrictions will start for businesses and households across the Lower Hunter from 16 September 2019.
Ai Group Member Veedol announces a new product

After many years of product development, Whitebridge-based Veedol has released Annex V10. Based on renewable, biodegradable base oils, it's a penetrating fluid with exceptional lubrication & anti-corrosive properties.

Welcome to new Member: saberVox Cloud Solutions

Newcastle business saberVox offers customisable cloud solutions which are scalable from the smallest operation to multi-site, multi-user organisations with complex hosting and storage arrangements.
Regional Network Meetings

Our regional network meetings cover a wide range of interests and are very popular with key managers in our member companies.

Upcoming events include:

Supply Chain & Logistics Forums
Hunter – Thursday 26 September, 8.00-10.30am
Central Coast – Friday 27 September, 8.30-10.30am

Lean Manufacturing & Sustainability Cluster
Circular Economy Seminar – Tuesday 15 October 7.15-9.40am
Lead speaker: Professor Veena Sahajwalla, UNSW, a world expert in re-use of industrial waste; Supporting speakers from Molycop, TW Woods Construction & Hunter Joint Organisation of Councils
Proudly sponsored by Molycop

Employee Relations Network
Hunter – Wednesday 16 October, 8.00-10.00am
Central Coast (new) – Thursday 23 November, 8,30-10.30am

Hunter Manufacturing Innovation Cluster
Thursday 17 October, 5.00-7.00pm
(note change of date from 31 October)
UoN Makerspace Club: leading students present 2019 projects

NB: Hunter Member Briefing scheduled for 24 October has been postponed until Tuesday 12 November, Woody's Cafe, Thornton
Speakers:
Stephen Smith, Head of National Workplace Relations, Ai Group;
Mark Goodsell, NSW Head, Ai Group

To see the full list and dates go to our Regional webpage:
www.aigroup.com.au/contact/hunter
Member Meetings outside Newcastle

Approximately six years ago, Ai Group moved from regional member meetings to webinars to:

increase member access to information regardless of the remoteness of location; and
provide information that was related to one topic at a time.

While our webinars continue to be highly rated, some regional members have expressed a desire to have face-to-face engagement with our Regional Office.

In response, we are initiating Mid North Coast Member briefings twice a year following the Newcastle member Briefings and the Central Coast Employee Relations Network, four times a year, to provide networking opportunities for HR Managers on the Central Coast.

Planned dates are:

Port Macquarie (Sancrox), Wednesday 13th November, 3.00-5.00pm – Register now; and
Gloucester, Thursday 14th November, 12.00-2.00pm (light lunch provided) – Register now.

If members in other sub-regions have an interest in local meetings, please email the Regional Manager: adrian.price@aigroup.com.au
Your Membership with Ai Group

Are you getting the most out of your membership? Give our Regional Manager a call for an update on Ai Group's services:

Adrian Price: 02 4925 8300; adrian.price@aigroup.com.au
Workplace Relations Advice and Assistance

Members of Ai Group seeking advice or assistance regarding workplace relations issues can contact:

Leanne Cruden, Principal Adviser - Workplace Relations on
(02) 4925 8300 or leanne.cruden@aigroup.com.au