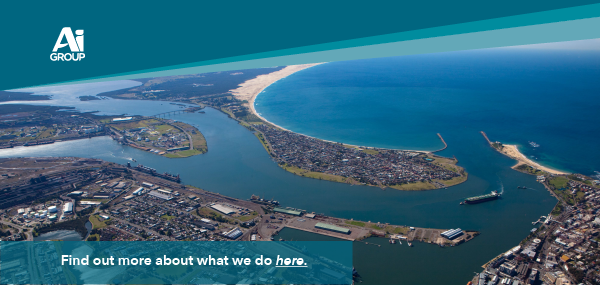 Ai GROUP GREATER HUNTER UPDATE
October 2019
Changing of the Guard at Regional Office
Adrian Price will be retiring from the position of Regional Manager on 8th November after 10 years in the role. He will be replaced by Trevor Stuart. They each deliver a message below – along with all the usual time-sensitive updates on what is happening in your region
---
A message from Adrian Price

"I feel honoured to have been of service to members and to have represented industry in many forums. There have been many challenges, not least the mining recession which caused major disruption to many members."

A message from Trevor Stuart

"I am hoping to have a conversation with each existing member company within my first year and I encourage you to get in touch if you have an issue to discuss or an opportunity to investigate."
Ai Group members winners & finalists at 2019 HMA Awards

The Hunter Manufacturing Awards were held on 11th October and Ai Group members were prominent among those gaining recognition.

Export Capability Workshop: Cessnock 7th November

This free interactive workshop is designed for businesses starting out on their export journey and those looking to consolidate knowledge.
Hunter Defence Ready Workshops

This series of workshops is a must-attend for any members who are serious about getting into defence industry procurement. The program has been organised by Hunter Defence and will be led by industry experts.

Advancing Industry 4.0 uptake in Australia

The key strategic priorities for Australia related to Industry 4.0 identified by delegates at the Inaugural Industry I4AMF Conference have now been captured in the I4AMF post-conference report.
Manufacturing Modernisation Fund applications close 31 October

A new $50 million program will support manufacturers in modernising, adopting new technologies, becoming more productive and in creating more jobs by co-funding capital investments and associated reskilling. And we can help with your application – but hurry!

Find out more here
Regional Network Meetings

Our regional network meetings cover a wide range of interests and are very popular with key managers in our member companies.

Upcoming events include:
(Click on links to register)

October

Hunter Manufacturing Innovation Cluster
Thursday 17 October, 5.00-7.00pm
Speakers: Leading University of Newcastle students
Topic: Hear from leading students about their final year projects. Spot your future design and engineering talent.
UoN Engineering Building EF-Room G06, University Drive, Callaghan

November

Hunter Safety Leadership Network
Wednesday 6 November, 8.30-10.30am
Speaker: Tracey Browne, Ai Group
Topic: Impending changes to regulations relating to Workplace Exposure Standards for chemicals, plus usual roundup of legal cases
Ai Group Newcastle Office

Hunter Industry Leaders Council
Wednesday 6 November, 5.00-7.30pm
Speakers: Amanda Coleman & John Finn, Newcastle Airport
Topic: Newcastle Airport's plans for the development of a high-quality technology park, 'Astra Aerolab'
Speaker: Warrick Jordan, Hunter Employment Facilitator
Topic: New research on best practice workforce transitions in the automotive industry, with local case study
Ai Group Newcastle Office

Hunter Member Briefing
Tuesday 12 November, 7.00-9.30am
Speakers: Stephen Smith, Head of National Workplace Relations, Ai Group; Mark Goodsell, NSW Head, Ai Group
Topics: Updates on major current IR cases & government policy
Speaker: Trevor Stuart, new Regional Manager, Ai Group Hunter
Topic: Regional news and networking
Woody's Cafe & Conference Centre, Thornton

Employee Relations Network
Friday 22 November, 8.30-10.30am
Speaker: Leanne Cruden, Ai Group
Topic: Updates on major current cases affecting employers including Black Coal Mining Long Service Leave case.
Speaker: Warrick Jordan, Hunter Employment Facilitator
Topic: New research on best practice workforce transitions in the automotive industry, with local case study
Panel session: Member case studies on managing industrial conflict
Ai Group Newcastle Office

NB: Also see below for new Central Coast Employee Relations Network

Hunter Skills Development Network
27 November, 8.30-10.30am ​
Speaker: ​Peter Schreiner, TAFE NSW
Topic: Presentation on the Advanced Manufacturing Training Facility
Speaker: Rick Evans, Industry Skills Manager, RDA Hunter
Topic: 2019 Highlights, STEM education developments, RDA Hunter
TAFE NSW, Tighes Hill Campus, northern end of Block C

To see the full list and dates go to our Regional webpage:
www.aigroup.com.au/contact/hunter
Member Meetings outside Newcastle

Approximately six years ago, Ai Group moved from regional member meetings to webinars to:

increase member access to information regardless of the remoteness of location; and
provide information that was related to one topic at a time.

While our webinars continue to be highly rated, some regional members have expressed a desire to have face-to-face engagement with our Regional Office.

In response, we are initiating Mid North Coast Member briefings twice a year following Newcastle member Briefings and the Central Coast Employee Relations Network, four times a year, to provide networking opportunities for HR Managers on the Central Coast.

Scheduled dates are:

Port Macquarie (Sancrox)
Wednesday 13th November, 3.00-5.00pm
Speaker: Trevor Stuart, new Regional Manager, Ai Group Hunter
Topic: Round-up of major cases currently being pursued on behalf of employers; regional news; and networking
HF Hand Constructors, 3 Sancrox Road, Sancrox
Register now

Gloucester (Inaugural meeting)
Thursday 14th November, 12.00-2.30pm (light lunch provided)
Speaker: Trevor Stuart, new Regional Manager, Ai Group Hunter
Topic: Round-up of major cases currently being pursued on behalf of employers; regional news; networking; and future meetings
Roundabout Inn, 28 Church St, Gloucester
Register now

Central Coast Employee Relations Network (Inaugural meeting)
Thursday 21 November, 8.30-10.30am
Facilitator: Leanne Cruden, Ai Group
Topic: Round-up of major cases currently being pursued on behalf of employers. Discussion about future meetings.
Husqvarna Pty Ltd, 4 Pioneer Avenue Tuggerah NSW
Register now

If members in other sub-regions have an interest in local meetings, please email the Regional Manager: adrian.price@aigroup.com.au
Your Membership with Ai Group

Are you getting the most out of your membership? Give our Regional Manager a call for an update on Ai Group's services:

Adrian Price: 02 4925 8300; adrian.price@aigroup.com.au
Workplace Relations Advice and Assistance

Members of Ai Group seeking advice or assistance regarding workplace relations issues can contact:

Leanne Cruden, Principal Adviser - Workplace Relations on
(02) 4925 8300 or leanne.cruden@aigroup.com.au