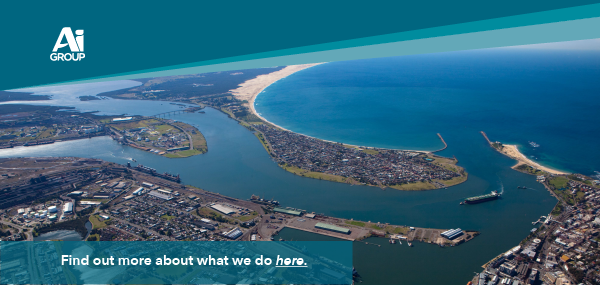 Ai GROUP GREATER HUNTER UPDATE
November 2018
Welcome to Ai Group's monthly news update for the Hunter, Central Coast and Northern NSW Region
This newsletter is filled with time-sensitive updates on what is happening in your region and workplace relations issues generally. We will continue to issue our quarterly Regional Newsletter which will contain more in-depth articles and less time-sensitive content.
---
EDITORIAL: an amazingly busy time for our Newcastle office

This newsletter is a combination of September and December issues due to an amazingly busy time at our Newcastle office this quarter.

Electrifying industry: how to lower costs

Ai Group is sponsoring a seminar on 29 November on how costs can be cut in the metals, plastic, rubber, glass, food, drink and ceramics industries.
Fee-free apprenticeships a boost to employers

A new initiative of the NSW Government is a huge boost to employers and young people seeking apprenticeships and traineeships.

Graduate research students can fuel innovation in your business

New guidelines for industry are designed to enable and support partnerships between university graduate researchers and businesses.
RDA Hunter: Quarterly Report to the region

RDA Hunter's Quarterly Report to the region highlights recent work undertaken in Q2 this year, including its STEM workforce initiative.

Procurement opportunity: Maitland Hospital

Multiplex, supported by Ai Group and ICN, is inviting local SMEs to attend an industry briefing on 16 November regarding the New Maitland Hospital.
Graduate Employment Service and Talent Solutions

Ai Group has recently launched two new services: Graduate Employment Service and Talent Solutions.

Ai Group's Graduate Employment Service is a personalised service that helps make sure when you employ a graduate, they have the necessary workplace skills they need. Ai Group mentors your graduate throughout their employment, working closely with their manager to see how they're performing and back them with a two-month induction program. To find out more about Ai Group's Graduate Employment Service, contact 1300 617 690.

Ai Group's Talent Solutions focuses on white collar recruitment services and assists businesses to find that critical candidate they have been searching for. As one of Australia's largest employer associations, Ai Group has access to some of Australia's top talent. To find out more about Ai Group's Talent Solutions, contact 1300 436 088.
Your Membership with Ai Group

Are you getting the most out of your membership? Give one of our Member Relationship Executives a call for an update on Ai Group's services:

Adrian Price - (02) 4925 8300 or adrian.price@aigroup.com.au
Judy Martin - (02) 4925 8303 or judy.martin@aigroup.com.au
Workplace Relations Advice and Assistance

Members of Ai Group seeking advice or assistance regarding workplace relations issues can contact

Leanne Cruden, Principal Adviser - Workplace Relations on
(02) 4925 8300 or leanne.cruden@aigroup.com.au