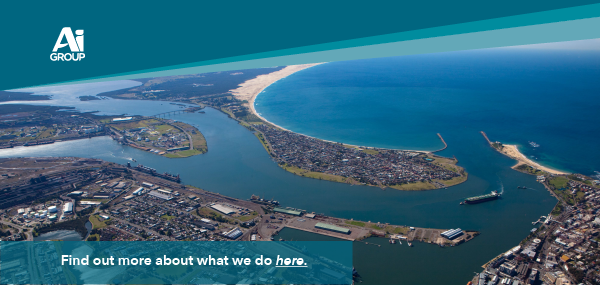 Ai GROUP GREATER HUNTER UPDATE
May 2019
Welcome to Ai Group's monthly news update for the Hunter, Central Coast and Northern NSW Region
This newsletter is filled with time-sensitive updates on what is happening in your region and workplace relations issues generally.
---
Scamming – it could happen to you

This story will convince you why cybersecurity is a "clear and present danger" personally, for family members and for your business.

Cessnock kids head to Dubai for World Finals

Mount View High School has continued its long-running success in the F1 in Schools program, and will now head to October's World Finals in Dubai.
Power infrastructure upgrade assistance

Does your business need an electrical infrastructure upgrade to maximise growth? Applications are open for the pilot NSW Regional Business Power Infrastructure Upgrade Program.

Advanced Diploma: Electronics & Comms engineering – interested?

A member company needs to upskill its electronics employees, but the TAFE Cert IV program is only available in Sydney. Do you have a similar need for a program run in the Hunter?
BlueZone awarded Defence Innovation Hub contract

BlueZone Group has been awarded a Defence Innovation Hub contract for a concept exploration phase study relating to its unmanned surface vehicle systems operations.

News for SMEs from the Small Business Ombudsman

The Office of the Small Business and Family Enterprise Ombudsman reports on its Review of Payment Terms, Times & Practices, and welcomes the Australian Business Growth Fund.
Energy Efficiency: Accessing Manufacturing Funding

$16 million in matched NSW Government funding for energy saving projects is available on application before 30th June 2019.


Do you have a Big Data problem to solve?

The Mathematics in Industry Study Group is bringing some high-powered maths talent to Newcastle, offering a cost-effective chance to crack some big materials /production problems.
How much does waste cost you?

The Office of Environment and Heritage NSW has recently become a partner with Ai Group's Hunter Lean Manufacturing and Sustainability Cluster. We are collaborating to identify what are the most significant waste disposal issues/costs for our members. Ai Group invites you to give us your feedback so we can identify potential projects to benefit you and local industry players:

Your feedback on waste costs
Online Events

Ai Group regularly presents free and live interactive online events, most recently including:

2019 Election Series: Workplace Relations in Focus Part 1 – Compliance now and into the future
7 March 2019 – Watch now
2019 Election Series: Workplace Relations in Focus Part 2 – Union calls for reform & the practical impact on your workplace
2 April 2019 – Watch now

The third event in this series will follow the 18 May Federal Election.

Members also have access to recordings of other previous events via our Online Events Library.
Workplace Relations Advice and Assistance

Members of Ai Group seeking advice or assistance regarding workplace relations issues can contact:

Leanne Cruden, Principal Adviser - Workplace Relations on
(02) 4925 8300 or leanne.cruden@aigroup.com.au