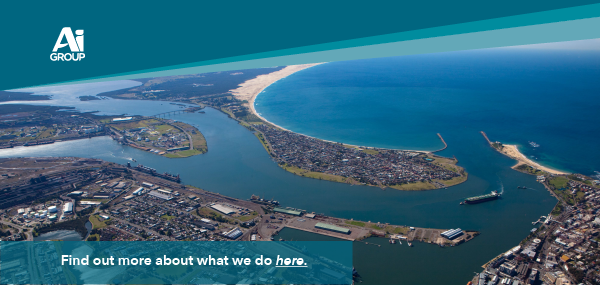 Ai GROUP GREATER HUNTER UPDATE
July 2019
Welcome to Ai Group's monthly news update for the Hunter, Central Coast and Northern NSW Region
This newsletter is filled with time-sensitive updates on what is happening in your region and workplace relations issues generally.
---
Hunter Manufacturing Awards are now open!

Attention manufacturers in the Hunter, Central Coast and mid-North Coast. Registrations of interest for this year's Hunter Manufacturing Awards are open until 19 July 2019. Detailed applications are open until 31 August.

Hunter Defence 10th Anniversary Conference, 22-23 August

This year's conference will have a strong focus on defence industry participation by SMEs. Presentations will centre on driving collaboration between Defence Primes, regional SMEs, academia and government.
How Ai Group works for you: two examples

Here are just two examples of the work Ai Group is doing to support industry, both here in the Hunter and across broader Australian industry.


Ai Group wins Endeavour Award: Industry 4.0 apprentice program

Ai Group, in collaboration with Swinburne University, won the 'Excellence in Manufacturing Skills Development' award at Manufacturers' Monthly's Endeavour Awards in May.
Solving problems second nature to Ampcontrol

How did Ampcontrol respond to the challenge of delivering drinkable water to a remote, indigenous community approximately 75kms from Alice Springs?

Works commence on Astra-Aerolab Technology Park

On 14 May, the Deputy Premier of NSW turned the first sod to mark the ceremonial announcement of early works for Newcastle Airport's world-class defence and aerospace precinct.
Ship Building program: Expressions of interest open

BAE Systems has opened bids for local manufacturers to supply equipment, materials and services as part of the Hunter Class Frigate Program.

Handy resources for SMEs to increase efficiency

Our Entrepreneurs Program Business Adviser, Chris Kelleher, shares with you two websites which may be useful in increasing effiiency.
Regional Network Meetings

Our regional network meetings cover a wide range of interests and are very popular with key managers in our member companies.

To see the full list and dates go to our Regional webpage:
www.aigroup.com.au/contact/hunter
News from Small Business Ombudsman

The Ombudsman has been advocating for Small Business on matters that impact your bottom line. Some current matters which may be of interest to you include:

Businesses tendering for Commonwealth contracts over $4 million;
Australian Financial Complaints authority will now accept claims back to 1 January 2008; and
If you are applying for a loan from a bank, be sure the terms offered to you comply with the Australian Banking Association Update Code of Conduct.
Online Events

Ai Group regularly presents free and live interactive online events, most recently including:

Cyber Security threats for Australian businesses in 2019
12 June 2019 – Watch a recording now

Register now for our next live online event:

The art of accessing Skilled Visas to address skills gaps
25 July 2019 – Register now

Members also have access to recordings of other previous events via our Online Events Library.
Your Membership with Ai Group

Are you getting the most out of your membership? Give our Member Relationship Executive a call for an update on Ai Group's services:

Adrian Price: 02 4925 8300; adrian.price@aigroup.com.au
Workplace Relations Advice and Assistance

Members of Ai Group seeking advice or assistance regarding workplace relations issues can contact:

Leanne Cruden, Principal Adviser - Workplace Relations on
(02) 4925 8300 or leanne.cruden@aigroup.com.au