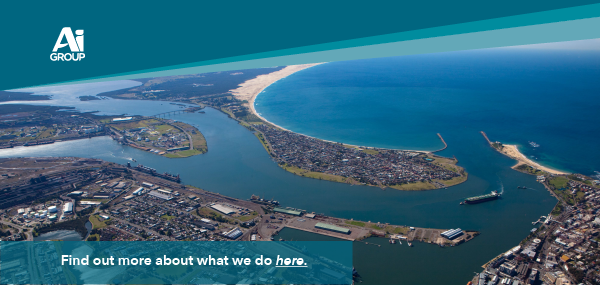 Ai GROUP GREATER HUNTER UPDATE
December 2018
Welcome to Ai Group's monthly news update for the Hunter, Central Coast and Northern NSW Region
This newsletter is filled with time-sensitive updates on what is happening in your region and workplace relations issues generally.
---
Improved access to finance for small business

The Government has announced improved access to finance for small business and has also lessened the burden of annual financial auditing requirements for some companies.

Hunter Defence Forum: Joint Strike Fighter opportunities

Lockheed Martin and BAE Systems will address a Defence Forum for members on 5 December, outlining opportunities for supplying to the Joint Strike Fighter program.
Multi-million dollar injection supports defence innovation

The Minister for Defence Industry has announced $12 million in funding for five Australian companies to develop leading-edge defence technologies.

Would you like to upgrade to more energy efficient equipment?

The NSW Government is launching a $16 million matched funding offer in early 2019 for manufacturers to save energy and money.
Urgent call to support payment times review

An important survey closes this week that will inform a review of payment times to measure the effects of late or extended payment practices on the cash flow of small businesses.

New interview series: Energy Conversations

We're interviewing leading energy businesses and experts to explain what is going on in energy and what it means for your business. Episode 1 looks at the gas import option.
Online Events

Ai Group regularly presents free and live interactive online events, most recently including:

2018 in Review: Key Workplace Relations Developments
21 November 2018 - Watch now

Members also have access to recordings of other previous events via our Online Events Library.
Your Membership with Ai Group

Are you getting the most out of your membership? Give one of our Member Relationship Executives a call for an update on Ai Group's services:

Adrian Price - (02) 4925 8300 or adrian.price@aigroup.com.au
Judy Martin - (02) 4925 8303 or judy.martin@aigroup.com.au
Workplace Relations Advice and Assistance

Members of Ai Group seeking advice or assistance regarding workplace relations issues can contact

Leanne Cruden, Principal Adviser - Workplace Relations on
(02) 4925 8300 or leanne.cruden@aigroup.com.au